This event was held on Tuesday Feb 15th 2022 at the 4.0 km long Daytona International Speedway 2008 – oval track in United States. Qualifying began at 20:30 GMT, followed by the race.
Damage healing will be turned on.
Some very slow AI will be present at the back of the field, you can try them out here. Limit of two tire sets for the race.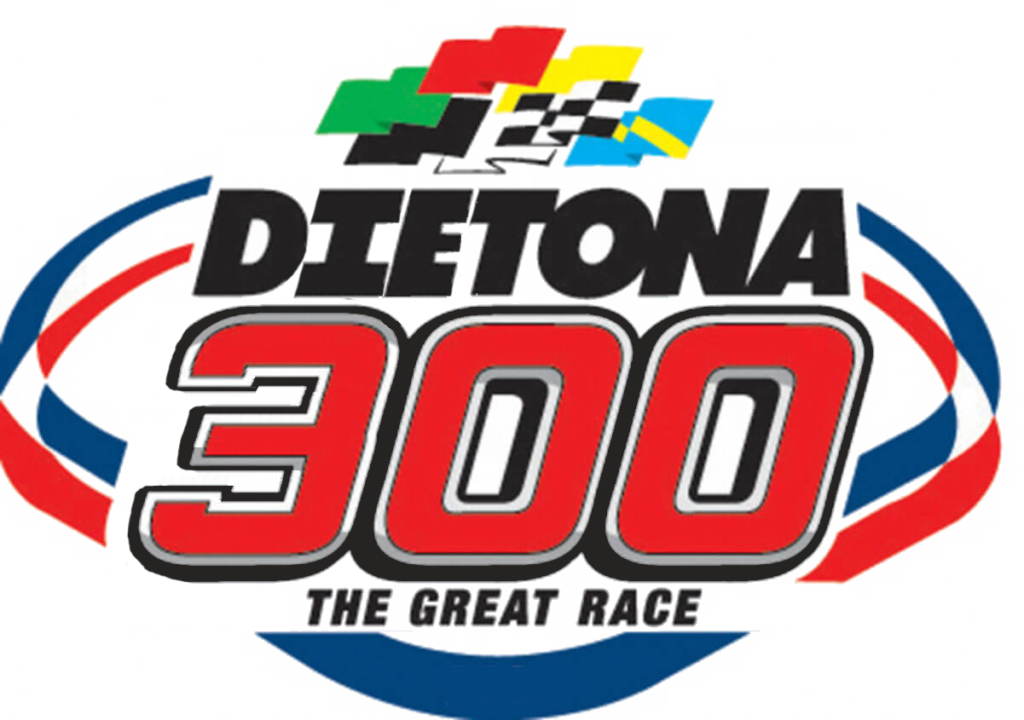 Allowed car
NASCAR Cup (the older cars)
iRacing fixed Daytona oval setup
Fuel limited to 50%
Results table
| Pos | Name | Start | Car # | Out | Interval | Laps led | Qual | Avg lap | Fastest lap | fastest lap | laps compl | Inc |
| --- | --- | --- | --- | --- | --- | --- | --- | --- | --- | --- | --- | --- |
| 1 | Maxamillion Bianco | 1 | 7 | Running | | 6 | 49 | 59 | 46 | 47 | 75 | 34 |
| 2 | Florian Büscher | 1 | 51 | Running | 18 | 3 | 49 | 1:00 | 46 | 59 | 75 | 16 |
| 3 | Thomas Lademann | 1 | 404 | Running | 19 | 15 | 49 | 1:00 | 47 | 40 | 75 | 28 |
| 4 | Aron Kertesz | 1 | 76 | Running | 35 | 0 | 49 | 1:00 | 46 | 52 | 75 | 20 |
| 5 | Szabolcs Stang | 1 | 42 | Running | 36 | 0 | 50 | 1:00 | 46 | 32 | 75 | 30 |
| 6 | Robert Viski | 1 | 2 | Running | 46 | 17 | 49 | 1:00 | 47 | 60 | 75 | 21 |
| 7 | Ian Newman | 1 | 6 | Running | 52 | 0 | 49 | 1:00 | 47 | 6 | 75 | 24 |
| 8 | Markus McPharma | 1 | 103 | Running | -1L | 0 | 49 | 1:00 | 46 | 32 | 74 | 29 |
| 9 | Bob Fitzgerald | 1 | 8 | Running | -1L | 0 | 01 | 1:00 | 47 | 63 | 74 | 24 |
| 10 | Auke Haarsma | 1 | 29 | Running | -1L | 0 | 49 | 1:01 | 46 | 15 | 74 | 24 |
| 11 | Steven Protzman | 1 | 535 | Running | -1L | 0 | 49 | 1:01 | 47 | 70 | 74 | 27 |
| 12 | Thierry Vossier | 1 | 15 | Running | -1L | 0 | 49 | 1:01 | 46 | 31 | 74 | 18 |
| 13 | Patric Moor | 1 | 74 | Running | -2L | 6 | 49 | 1:01 | 46 | 32 | 73 | 22 |
| 14 | Tracy Landis | 1 | 3 | Running | -2L | 0 | 49 | 1:00 | 46 | 32 | 73 | 14 |
| 15 | Jakub Kuchciak | 1 | 66 | Running | -2L | 0 | 49 | 1:01 | 46 | 51 | 73 | 20 |
| 16 | Alaric van den Bos | 1 | 9 | Running | -2L | 8 | 49 | 1:01 | 46 | 47 | 73 | 26 |
| 17 | Jan Schoenfelder | 1 | 21 | Running | -2L | 12 | 49 | 1:01 | 46 | 32 | 73 | 25 |
| 19 | Bruce Johnson | 1 | 0 | Running | -3L | 6 | 49 | 1:01 | 47 | 62 | 72 | 43 |
| 20 | Bradley Cockrell2 | 1 | 46 | Running | -3L | 0 | 01 | 1:00 | 47 | 22 | 72 | 35 |
| 21 | Michael Houlton | 1 | 30 | Running | -5L | 0 | 49 | 1:03 | 47 | 20 | 70 | 23 |
| 22 | Mario Farag | 1 | 72 | Running | -5L | 0 | 49 | 1:04 | 47 | 48 | 70 | 28 |
| 23 | Steven Nokes | 1 | 19 | Running | -6L | 0 | 01 | 1:04 | 46 | 57 | 69 | 39 |
| 24 | Richard Valli | 1 | 69 | Disconnected | -27L | 0 | 49 | 1:04 | 47 | 22 | 48 | 34 |
| 25 | Giovanni Coronin | 1 | 171 | Disconnected | -29L | 0 | 49 | 1:03 | 47 | 39 | 46 | 33 |
| 26 | Frank Oosterhuis | 1 | 26 | Disconnected | -44L | 2 | 50 | 1:09 | 47 | 14 | 31 | 17 |
| 27 | Björn Beiersdorf | 1 | 4 | Disconnected | -52L | 0 | 49 | 1:05 | 47 | 13 | 23 | 13 |
| 28 | Gandolf the Great | 1 | 953 | DQ%2FScoring+Invalidated | -66L | 0 | 50 | 1:16 | 56 | 6 | 9 | 12 |
| 29 | Ryan Hellyer | 1 | 27 | DQ%2FScoring+Invalidated | -67L | 0 | 50 | 1:15 | 52 | 7 | 8 | 4 |
| 30 | Hillary Smellyer | 1 | 954 | DQ%2FScoring+Invalidated | -68L | 0 | 50 | 1:16 | 53 | 6 | 7 | 16 |
| 31 | Mad Max | 1 | 955 | DQ%2FScoring+Invalidated | -68L | 0 | 50 | 1:17 | 54 | 7 | 7 | 8 |
| 32 | Eric Cartman | 1 | 956 | DQ%2FScoring+Invalidated | -68L | 0 | 50 | 1:15 | 54 | 7 | 7 | 8 |
| 33 | Cole Trickle | 1 | 958 | DQ%2FScoring+Invalidated | -69L | 0 | 50 | 1:36 | 01 | | 6 | 8 |
| 34 | Skid Vicious | 1 | 960 | DQ%2FScoring+Invalidated | -69L | 0 | 50 | 1:32 | 1:37 | 4 | 6 | 12 |
| 35 | Rowdy Burns | 1 | 957 | DQ%2FScoring+Invalidated | -69L | 0 | 50 | 1:33 | 01 | | 6 | 8 |
| 36 | Honey Badger | 1 | 959 | DQ%2FScoring+Invalidated | -69L | 0 | 50 | 1:28 | 1:38 | 4 | 6 | 16 |
| 37 | Asphalt Repariaran | 1 | 950 | DQ%2FScoring+Invalidated | -69L | 0 | 50 | 1:28 | 1:38 | 4 | 6 | 8 |
| 38 | Russ Wheeler | 1 | 952 | DQ%2FScoring+Invalidated | -70L | 0 | 50 | 1:33 | 1:38 | 4 | 5 | 8 |
| 39 | Nikolay Bear | 1 | 961 | DQ%2FScoring+Invalidated | -70L | 0 | 50 | 1:33 | 1:37 | 4 | 5 | 12 |
| 40 | Todd Cousins | 1 | 13 | Disconnected | -75L | 0 | 01 | | 01 | | 0 | 0 |
| 41 | Artem Kulyaev | 1 | 12 | Disconnected | -75L | 0 | 01 | | 01 | | 0 | 0 |